It is known that clients and guests often choose their accommodations taking into accound the ratings and reviews of other guests. That is why your opinions are extremely important to us.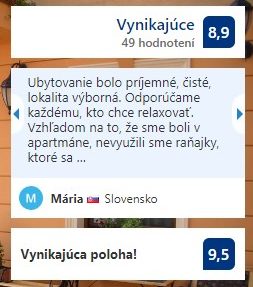 Whether you use the booking portal Booking.com or the occasional offer on the discount portals, we perceive each of your ratings and comments very carefully. It is a great way for us to improve our services and increase your satisfaction. And it makes us very happy to find praise and great reviews on, perhaps, the most famous booking platform, Booking.com.
From the ratings, we selected:
"We enjoyed the accommodation, it was clean, cozy, we don't have any objections. We also visited the wellness centre, the staff was nice, helpful, we enjoyed the stay. We recommend to everyone, who is looking for a nice, clean in the city centre. The rate was also great. "

Hedviga, Slovakia
"We really enjoyed our stay in the very top apartment. Thank you, AdamEva. A small cozy hotel in the very center of the city, close to everywhere, yet quiet. Free surveilled parking. Attentive and polite staff. Comfy beds. I forgot my clothes in the closet upon check out. The hotel contacted me via email and I was able to pick them up before leaving the city."

Marylander, USA
On behalf of all employees, staff and our entire family, we would like to thank you for your kind words, and we are going to continue to move forward and improve. The rating of 10 out of 10 is still a long way to go, but each day brings a new opportunity to move closer to it.
Thank you!